Ocean Park Aquarium, located in Shark Bay, Western Australia, is an exciting ecotourism venture that gives visitors the opportunity to see and learn about the wonders of the marine environment.
The Park is a popular tourism attraction as well as a recognised conservation and marine research facility. We welcome approximately 48,000 visitors each year to an aquarium experience like no other!
Customers explore the wonders of the Shark Bay Marine Park with a marine scientist by their side, discovering endangered sea turtles, highly venomous sea snakes, stonefish and more! We show visitors the secret lives of clownfish, stingrays and experience the raw fury of shark feeding up close and personal, all within a one hour tour.
Our tourism facility is accredited through the Quality Tourism Framework recognised throughout Australia. We are proud to be a Quality Tourism Accredited Business and have also met the standard to be a Sustainable Tourism Accredited Business. In 2014 we achieved gold in the Western Australian Tourism Awards – Tourist Attractions category – and were a finalist in the 2014 Australian Tourism Awards – Tourist Attractions category. In 2015 we also became the first and only PADI Dive Centre in Shark Bay.
WINNER OF THE WA TOURISM AWARD – BEST TOURIST ATTRACTION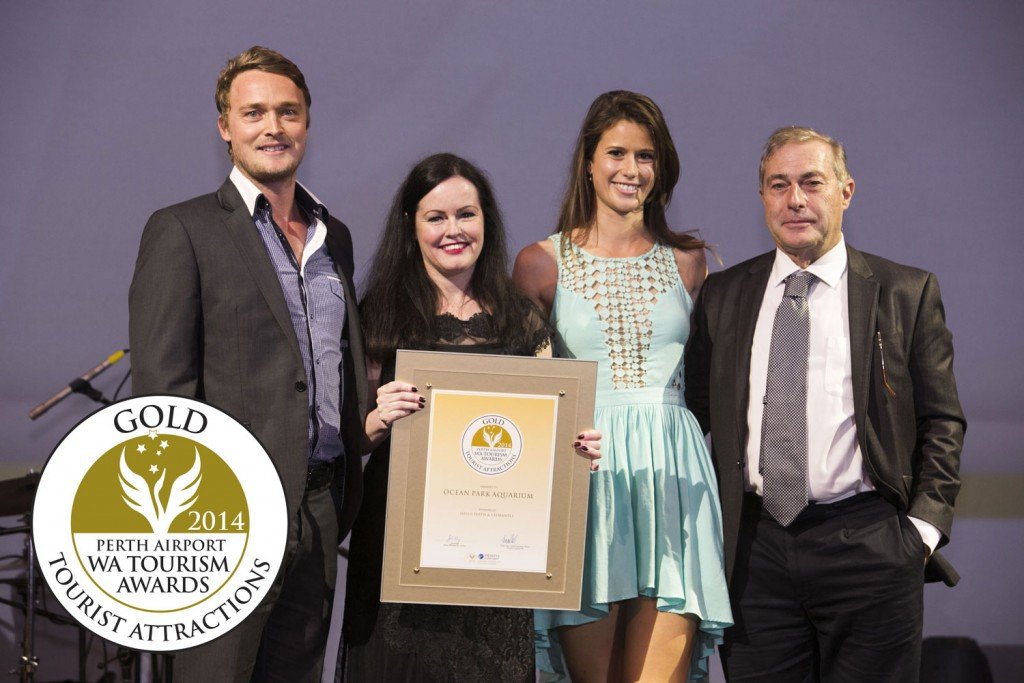 Ocean Park has its roots in aquaculture. Owned and operated by marine scientists, the business was initially opened in July 2000 to aquaculture Shark Bay pink snapper with two full time staff, and tours of small display aquaria.
Unfortunately pink snapper aquaculture cannot compete with wild capture fisheries due to the high cost of breeding and ranching such a slow growing species. Consequently, over the years the business has evolved to provide tours of marine display tanks and now employs a total of 25 staff members.
Ocean Park fully caters to tourism, research, animal rehabilitation and customer education, with a licensed restaurant, café, scuba diving, marine safaris and 4WD tours within the Shark Bay World Heritage Area to compliment the aquarium tours. We still hold an aquaculture licence and in the future hope to farm fish for sale in the restaurant to bring a true local experience to the diners.
At Ocean Park Aquarium, every customer joins a fully qualified marine scientist who takes you on an interactive, fun and educational tour of the entire aquarium, including the shark feeding. Enhance your knowledge and test ours! With every guide a qualified marine scientist, from a variety of specialties, we can enhance your aquarium experience by not only explaining where the creatures live, but why they do so.
After over 15 years of collecting feedback on our tours, the #1 favourite part of the tour is the guides! So come and meet us!
Ed FEnny
Managing Director
BSC Marine Science
Stacey blane
Manager
Dive Instructor
BSC Marine Science
tiani Guelpa
Manager
4x4 Tour Guide
Luke porter
4x4 Tour Guide
chelsea griffith
Master 5 skipper
4x4 Tour Guide
russel fraser
Master 5 Skipper
emily gosden
Divemaster
BSC Marine Science
Aquarium curator
reece cramond
Aquarium Curator
emilie ledwidge
Coxswain Skipper Dive Instructor
Aquarium Tour Guide
brandon mach
Aquarium Tour Guide
scarlett cross
Aquarium Tour Guide
jimmy leesteere
Aquarium Tour Guide

cora Lelong-douglas
Divemaster
Aquarium Tour Guide
ethan gallie
4x4 Tour Guide
Aquarium Tour Guide
genevieve buckton
4x4 Tour Guide
Aquarium Tour Guide
georgia sarmiento
Aquarium Tour Guide
stacey cooper
Pearl Shop (Denham)
olivier mimeault
Aquarium Tour Guide
Jake mason
Divemaster
Photographer
Aquarium Tour Guide