Meet the team
At Ocean Park Aquarium, every customer joins a fully qualified marine scientist who takes you on an interactive, fun and educational tour of the entire aquarium, including the shark feeding. Enhance your knowledge and test ours! With every guide a qualified marine scientist, from a variety of specialties, we can enhance your aquarium experience by not only explaining where the creatures live, but why they do so.
After over 15 years of collecting feedback on our tours, the #1 favourite part of the tour is the guides! So come and meet us!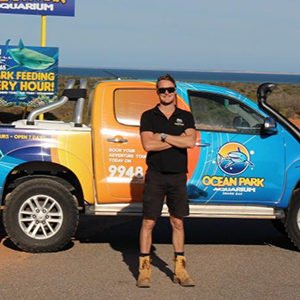 Ed Fenny
BSc Marine Science
Managing Director
Ed studied marine science following a childhood exploring the extensive WA coastline with a nature-loving family. Following fisheries and aquaculture work experience in Shark Bay, Ed became ingrained in the early beginnings of Ocean Park and eventually bought the business from the establishing owners. Ed has a very high quality standard and is known to make 10 coffees until he gets the right one. When Ed isn't at Ocean Park, you'll find him fishing, diving and kite surfing around Shark Bay.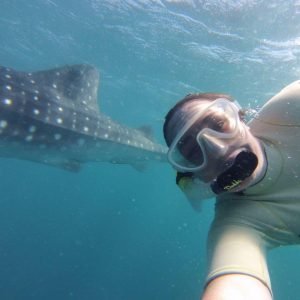 Kat Dodds
BSc Marine Science
Dive Instructor, 4WD Tour Guide, Assistant Manager
Kat is a triple threat - Diver, 4WD guide and expert Marine Scientist. Her passion and enthusiasm are second to none. Her "woo-sack" is always full! When Kat isn't giving tours in the aquarium she loves nothing more than exploring Shark Bay both above and below the water. You can find her either cruising the bay in her boat "Gotcha" or jumping over the dunes in her new car, "Franger" (pronounced frainjer).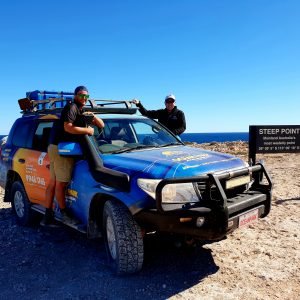 Luke Porter
Shark Bay Honey Badger
4WD Tour Guide
Luke is a graduate of the university of life with a PhD from the school of hard knocks. The "Honey Badger" of Shark Bay will deliver a 4WD experience that is authentically Australian. A Freo boy born and bred, Luke loves nothing more than 4WD'ing, fishing and living the dream up here in Shark Bay. His passion for the area makes him the ideal guide to explore Shark Bay World Heritage Area with.
How to get there
Ocean Park is situated 8km south of Denham and approximately 30km from Monkey Mia on Shark Bay Road. Located on Western Australia's rugged and spectacular west coast, Ocean Park is nearly the most western most point of Australia.
Get Driving directions
Opening Hours
9:00am - 5:00pm Every Day